In her spare time Jilly volunteers at local schools and throughout the community, designing and delivering projects based on equality and discrimination. She works with children and adults using education, music, art, theatre and dance as ways to inform, question and express opinions on the subjects. She's recorded community made singles and videos and even written and held a public performance of a play. Her work is supported by Wakefield's National Union of Teachers who provide funding for materials used in connection with her projects and consider her work as vital to schools in her area as the national curriculum doesn't cover some of the issues she discusses in class.
Global Harmony is the most recent of Jilly's projects and the BIGGEST of her efforts given to inspiring positive change.

It all began at Jilly's  local school, Stockingate Mill Junior School, where she volunteered for a whole year while working on the project that aimed towards inviting people from all walks of life to join the stand for equality and involved a global chain message, the making of a single, a music video and a travelling tree!

Things kicked off on January 1st 2015 with a chain message and a photo sent from the school to other schools around the world, inviting them to stand for equality and fair treatment of Earth and all it's creatures. It was later shared on social media.......check out some of the replies below!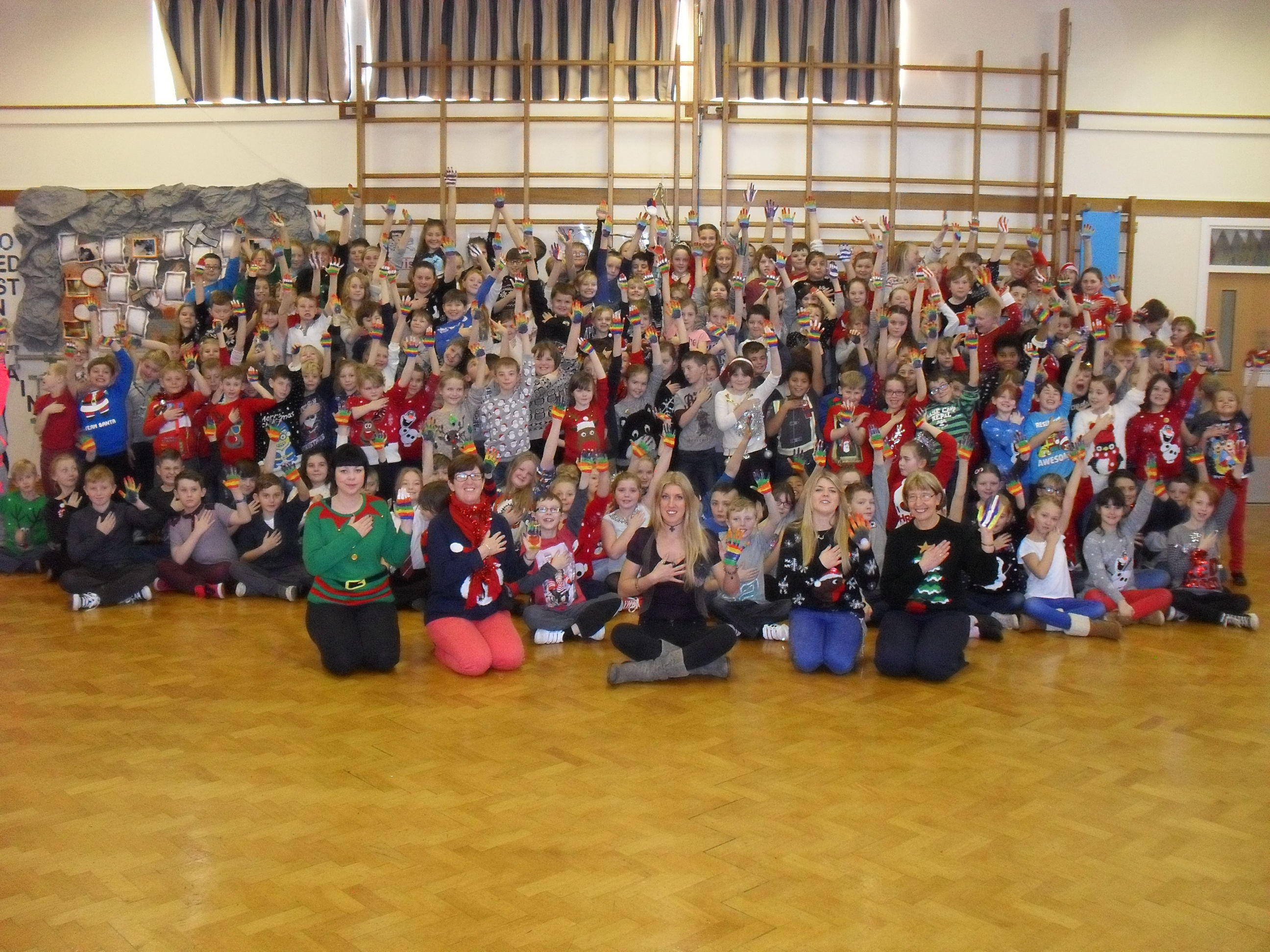 The community made single "Without Love"
Following the launch of the chain message was the making of the single Without Love. The song was written by Jilly and features band Skinny Living, Wakefield Community Gospel Choir and the young voices at Stockingate Mill Junior School along side her self. It was recorded in 10 different locations including the back bedroom, a church and various different classrooms and contains more than 270 voices, oozing love and grassroots vibes! It took months to organize the making of the track and wouldn't have been possible without NUT funding and sponsors from local businesses and some wonderful people from West Yorkshire where it has also been mastered and printed. Recorded using very basic equipment and house hold objects for percussion (Jilly's famous rhythm making method)......it is positively inspiring to see what can be done with limited funds and open minds and hearts! A message to the people from Jilly....."if you have something to share with the world, make it happen! We are lucky to be living in a time where technology gives us a means to reach a vast audience.......THE WORLD".

Without Love is now available to download here at the top of this page! You won't find it anywhere else as every penny that is raised counts! Jilly decided not to hand over fees to big corporate distribution companies as every penny is been donated to....

Schools For Chiapas, an organization supporting sustainable living and education to Zapatista communities, Mayans resisting oppression, throughout Chiapas, Mexico. Find them here at www.schoolsforchiapas.org
Why the Zapatistas?..........The Zapatistas are a movement of indigenous farmers from Chiapas, Mexico, who since 1994 have been developing and living an ecological and sustainable way with each other and their Mother, Earth. They share a vision of a world where "all worlds fit" and do what they can to manifest their dreams, inviting people from all walks of life to visit and share their ways together as they believe that education and acceptance are key to a brighter future. They work very hard to raise awareness for equality and implement it in their day to day lives........what a beautiful project to support!

In light of the tragedies taking place in Syria throughout the project, Jilly decided to also donate some of the funds raised to UNICEF UK's Syrian Children's Appeal

Visit their site here at http://www.unicef.org.uk/UNICEFs-Work/Emergencies/syrian-arab-republic-syria
 
Animating with love.....
To accompany the single, an animated video was made using artwork from the kids at Stockingate Mill Junior School and the local community. Leeds animation artist Sachin Limbachia came to school along with Jilly and together they worked with every single child to produce images for the animation. Sachin then completed the video with lots of his own art work too. Take a look!
Earlier school projects......